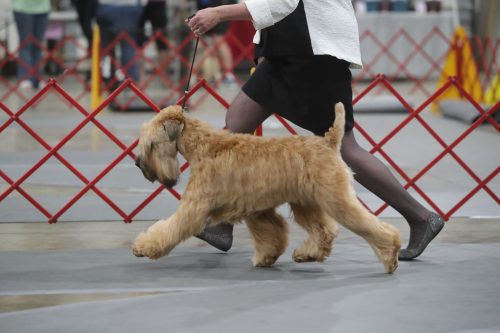 Welcome!
Carillon Wheatens is a small hobby breeder dedicated to preserving the Soft Coated Wheaten Terrier. I have owned wheatens for 20 years.  Although I am a new breeder, for the last five years I have worked under the mentorship of a well respected Wheaten breeder who has over 25 years of breeding experience.  I am a member of the Soft Coated Wheaten Terrier Club of America and follow their code of ethics.
All of our dogs come from championship lines recognized for their conformation and are bred to maximize sound health, intelligence and good temperament.  We use the Puppy Culture program to  develop each puppy to his or her highest potential.
Carillon Wheatens is located in East Greenbush,  just outside of Albany, New York.  The word "Carillon" means set of fixed chromatically tuned bells, and is borrowed from its connection to the Adirondack Mountains and Fort Ticonderoga (formerly Fort Carillon) where I spent MANY years of summer happiness.
I am a member of the Soft Coated Wheaten Terrier Club of America and have served on the Board as the Vice President and as a Director.
I am also a member of the Albany Kennel Club where I have served as the secretary as well as the American Kennel Club delegate.  In addition to breeding and conformation, I have also dabbled in agility for fun!  I am particular as to where I place my "babies", so don't be offended if I make you answer a seemingly  endless series of questions.  In the end, it will benefit us all – but more importantly, our Wheatens!